Culinary Tourism is on the rise
10 Nov, 2021
Franki Napolitano
1 Comment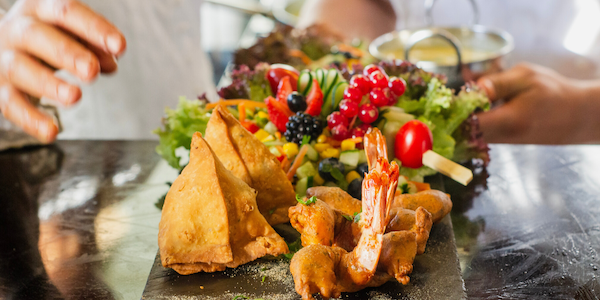 Your work day is often more productive when you get on with your colleagues. That means having things in common to chit chat about to make the day pass. We do just that at APS, and there are two things that regularly pop up in conversation around our desks.
Naturally as you can imagine travel is up there – where we've been, where's next on our list and our ultimate dream destinations.
But maybe just pipping that to the post would be food. Yep, we are not shy of our love of food, and have been known to give rundowns of our weekend culinary conquests on a regular basis.
Why am I telling you this? Well, if you like to travel and consider yourself a bit of a foodie, then I suggest you read on….
Culinary Tourism
Yes, it's a thing. It's simply the quest to find exciting and often unique dishes from around the world. Eating new food isn't just about the taste and textures; for many it's the experience, the culture, the inspiration even, that are a result of broadening their tastebud's horizons.
With that in mind, along with our collective desire to look at beautiful photos of food, here's a rundown of some of the most fantastic foodstuffs from all corners of the globe.
*Don't worry, no Instagram worthy salads with perfect avocados to be found in this list – although we are huge fans of said avocados….
So, let's start our culinary tour of the world, shall we?
The East
Japan
Japan is home to the renowned Wagyu beef. If you're unfamiliar with this specialty, it's beef from a specific cattle of cow, that are expertly and individually cared for, and ultimately make better tasting meat than any other cows (don'tcha know!) No, it won't be the cheapest meal on the menu, but you won't regret spending that little bit extra for probably the best steak you'll ever eat…just don't taint it by asking for a side of ketchup, please!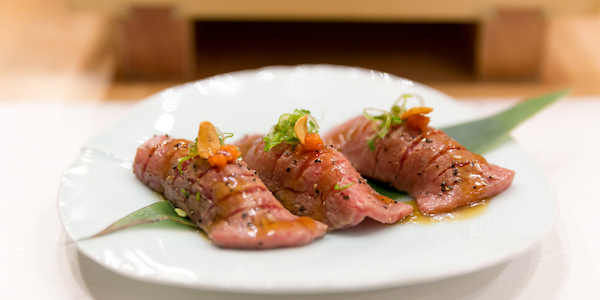 Photo credit: City Foodsters
If you have a sweet tooth, we highly recommend sampling Mochi balls – ice cream encased in sweetened sticky rice which you can find available in an array of pretty pastel shades.
Vietnam
Next stop, we arrive in Vietnam for the delights that are Gỏi cuốn – a variation of the spring roll you may be used to. You'll find a roll of bánh tráng, or rice paper, packed with prawns, pork and a mix of vegetables. Variations may include squid or beef and are much better for you than your favourite takeaway snack – there's no deep frying here!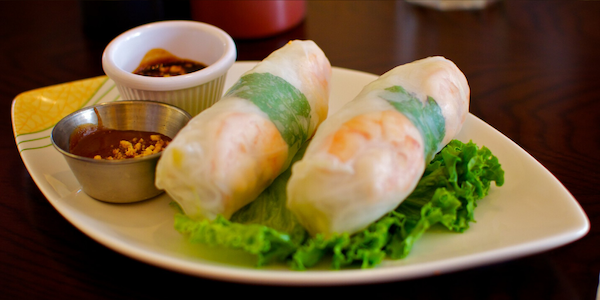 Photo credit: Ducson Nguyen
Singapore
Let's move on to Singapore, home to the Black Pepper and the Chilli Crab, two of the most famous dishes attributed to the city. One is coated in black pepper and dry fried, the other is cooked and served in a sweet and spicy chilli sauce.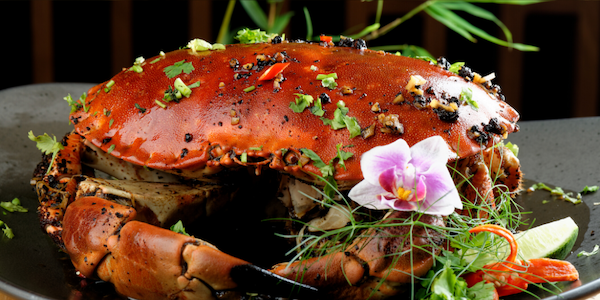 Mud crabs are the most popular choice for the dish and many say you must try one, if not both variations, on your visit! Follow up this course with some Bubur Cha Cha – sweet potato, yams and black eyed peas cooked in a sweet coconut milk – yes, really!
Thailand
Over in Thailand you'll find the delicious Tom Yum Goong – a typical thai soup. Expect sour, sweet, lemongrassy hotness from the broth which slowly infuses with fresh prawns, coriander and mushrooms. It's so good that even the fact that it's blowing your head off won't put you off. It's widely available in the UK, but nothing quite beats the real deal!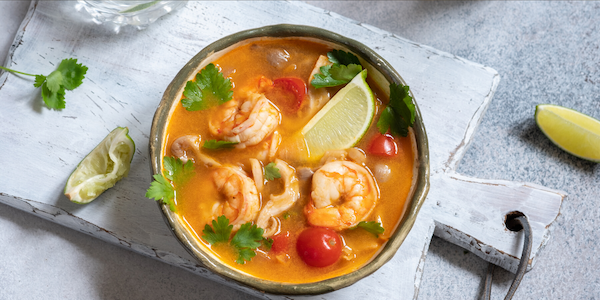 To cool off, follow this up with Khao Niaow Ma Muang, or Sticky Rice and Mango. The rice is cooked with coconut milk to give it a rich, creamy, dessert worthy sweetness.
Europe
Ooh there are so many places we could list in Europe! We are going to opt for some popular countries but some not so obvious choices…
Italy
As we move into Europe, it'd be rude to ignore one of the world's food capitals, Italy. Don't worry, I won't use this section to tell you about it being the best place to eat pasta, pizza and ice-cream, as we all know that already! Instead, why not try a traditional Ribollita? The word literally translates to "reboiled" – but don't let that put you off! It's a hearty mix of leftover bread and veg such as carrots, chard and cabbage, with some cannellini beans chucked in too. The recipes varies each time you make it, so don't be surprised if it look different each time you eat it!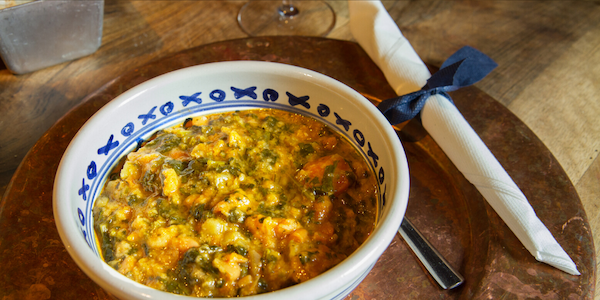 If that hasn't filled you up too much, you need to try Osso Buco alla Milanese; succulent cuts of veal marinated in a white wine sauce, served on a bed of risotto, somewhat different to the tomato sauce that the dish seems to have adopted. The defining feature of the dish is the marrow that's hidden within the bone – be sure to dig for it as it's a treasure worth finding for sure!
France
Upwards to France and let's face it, you could spend most of your time eating everything in sight! With so much to chose from, it was hard to pin it to just one treat, so we opted for the classic Parisian Macaron. A peer through any patisserie window is most likely to showcase a beautiful rainbow of these delectable, bite sized clouds of heaven, a firm favourite of locals and tourists alike. Expect classic flavours such as Vanilla and Chocolate alongside vibrant Mango, Pistachio and even Lavender creations!
The West
We could tell you all about the tacos from Mexico or the burgers in New York, but again, you can get those anywhere! Let's look at Venezuela instead…
Venezuela
Across the Atlantic and into Venezuela now for some classic street food; Arepas. Nothing could be more authentic than filling these deliciously fried maize breads with anything from eggs and avocado for breakfast to meat, onions and veg as a lunchtime meal. Variations of fillings can be found all over, however favourites include chorizo and cheese, fruit or beef and salad. Guaranteed to keep you full until your next meal…which will probably be another Arepas…!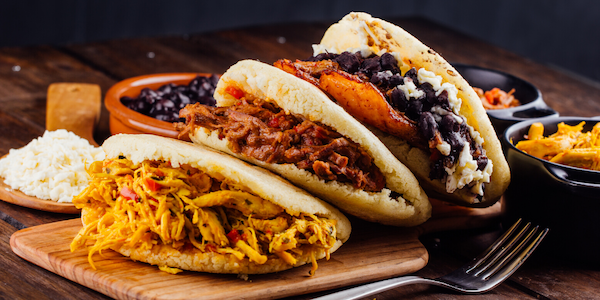 Canada
Our tour culminates in the gorgeous country of Canada, a place that is certainly just as renowned for its food as it is for it's jewel lined coasts and mountainous terrains. Again I won't bore you with the obvious choices here – I won't go on about the maple syrup bacon and Nanaimo Bars! Instead you should be more interested in the blueberries. Yep, the humble wild blueberries of Canada are the most widely exported in the world! Small, sweet and simply sumptuous, even the bees can't keep away from their fragrant aroma, which greatly contributes to the large production of Blueberry Blossom Honey from Ontario.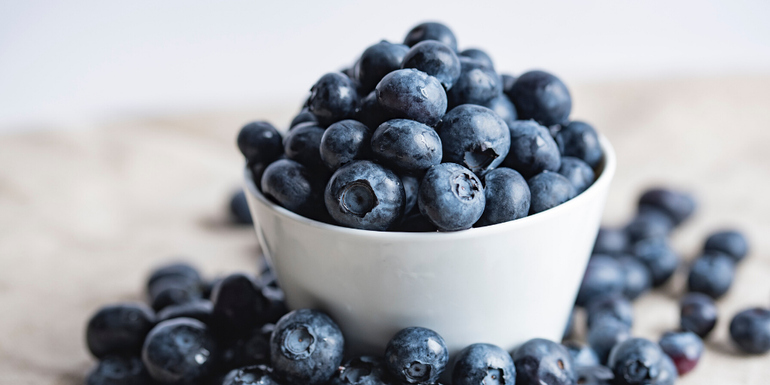 We hope you have enjoyed our list of different Culinary Tourism around the world. Let us know if you have ever tried some of the more obscure dishes above?