02 Nov, 2015
Will Davies
No Comments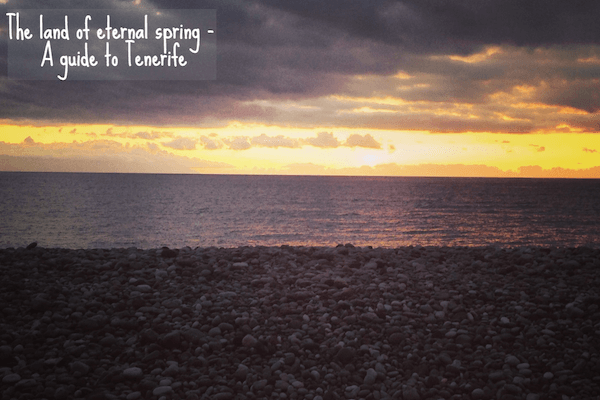 Sunset in Tenerife
The land of eternal spring, more commonly known as Tenerife, is the largest of the seven Canary Islands and has pleasant weather all year round; one of the many reasons why so many people flock to the island each year! I visited the Island for the first time back in June and had a truly amazing experience. I was shocked however to learn that it was only recently the Island had undergone a massive transformation and that not so long ago, Tenerife was associated with corruption and debauchery.
It is clear to see that the island has come a long way since then and today it is home to some of the most picturesque beaches, luxurious hotels, jaw dropping landscapes and world class attractions; not to mention its fantastic nightlife.
When to go
With a summer as inconsistent as ours, the majority of holidaymakers will book their holidays during the summer months to ensure they get some sun, but Tenerife experiences warm temperatures all year round, in fact it rarely falls below 14 degrees celsius, so a holiday in Tenerife will all but guarantee you and your companions lots of sunshine and very little rainfall for the larger part of the year (note that rainfall is more likely in the winter months).

Things to consider:
– Southern parts of the Island tend to experience slightly warmer temperatures and it's not uncommon for temperatures to hit the the low thirties.
– Tenerife is occasionally visited by the 'Sirocco', a very warm wind that begins in the Sahara Desert and makes its way over to the island, resulting in temperatures that can reach the high thirties.
– Dust storms are rare but occur when strong winds push sand over from the Sahara.
Where to stay in Tenerife
Los Cristianos, Playas De Las Américas and Costa Adeje
One for the younger generations, Playas De Las Américas was purpose built for tourism back in the 60s and is known as the island's hub for nightlife; Veronica's Strip and Starco Commercial may be the main nightlife attractions but bars lie around every corner of this bustling resort! It also features some fantastic restaurants (Bombay Blue was a personal favourite of mine), beautiful beaches – both artificial and natural and some great attractions.
Los Cristianos on the other hand offers a slightly more relaxed vibe and is a must visit for any seafood fanatics out there as the town is home to one of the principal harbours of Tenerife. Both resorts are great for young adults and couples but it's fair to say that Playas De Las Americas is more suited to party animals and stag/hen groups! They're also within easy reach of the southern airport, but if you want to explore some of the island's world class attractions, then multiple cabs or car rental will be essential, I would recommend using a comparison site if you are thinking of going down the car rental route, the Car Hire Centre compare multiple brokers to give you the cheapest prices possible.
The coastal retreat of Costa Adeje is home to a plethora of luxurious hotels, upscale restaurants and arguably the biggest attraction on the island, Siam Park, the largest water park in the whole of Europe. Much of Tenerife's development money was concentrated on Costa Adeje, making the resort more attractive to families and slightly older couples. Many people argue that the nicest beaches with the best facilities on the island are found here, so if you happen to get bored whilst sunbathing on the beaches, why not give surfing, windsurfing or even jet skiing a go?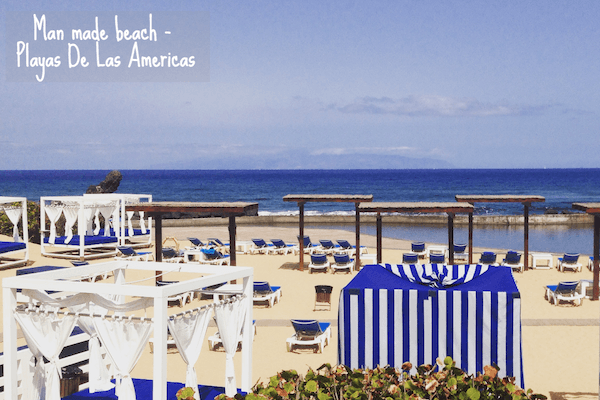 Man made beach in Playas De Las Americas
Santa Cruz
The capital of Tenerife is located in the north eastern region of the island, approximately 13km away from the northern airport and is the most populated city, with almost half of the island living within the capital or around it!
In a bid to become one of most attractive cities in the country, many modern structures have recently been added to the capital and it now has the 6th highest skyline in Spain, just behind the likes of Barcelona or Valencia. Landmarks in the capital city are a must visit, they include the Auditorium of Tenerife and The Santa Cruz towers, both of which were constructed in the last 12 years. If you happen to visit the capital during February, be sure to see or take part in world famous annual carnival!
In 2012 The Guardian included Tenerife's capital in the top 5 places to live in the world, a pretty big feat when you think about all of the competition.
Puerto De La Cruz
Puerto De La Cruz has been welcoming foreign visitors with open arms since the 19th century, back when it was better known for its spas. Today the resort has real personality and is known for its beautiful gardens, plazas and black sanded beaches. In contrast to some of the southern parts of the island, the resort tends to attract more mature couples and Germans are the most predominant visitors, so don't be surprised to see the odd bakeries selling German cakes and breads – delicious!
What to do in Tenerife
Ride the slides at Siam Park
In between Costa Adeje and Playas De Las Americas lies the largest waterpark in Europe – Siam Park. Famous for its Tower Of Power (pictured below), The Dragon and The Volcano, Siam Park attracts people from all over the world and it's easy to see why! Tickets can be purchased via the Siam Park website or around Playas De Las Americas tourist shops. Are you brave enough to face the 28 metre vertical drop posed by the Tower Of Power?
Ticket prices:
Adults – €38
Children – €23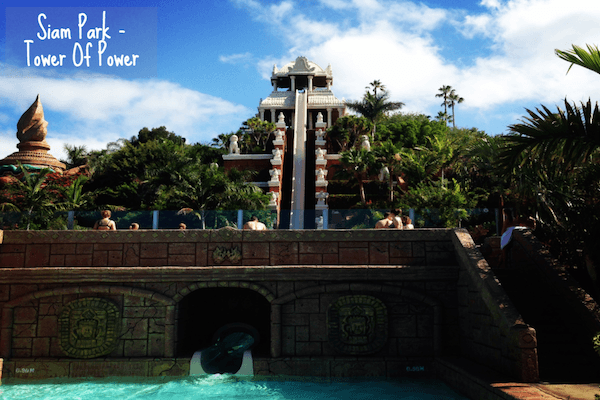 The Tower Of Power
Take a cable car to the top of El Teide
The highest point in Spain, standing at an incredible 12,198 feet, El Teide is one of very few active volcanoes left in Europe (Don't worry, it hasn't erupted since 1909). It is the most visited natural wonder in Spain, attracting over 2 million visitors per year. If you're not up to hiking to the peak then fear not, for just €27 (Adult ticket) you can get a return ticket, but make sure you pick a clear day otherwise you risk seeing nothing! The national park that surrounds the volcano is free, so if you're on a budget, why not take a picnic, sit back and enjoy the incredible sight.
Ticket prices:
Adults – €27
Children – €13.50
See the Killer Whales at Loro Parque
Loro Parque had 3.2 acres of land when it first opened back in 1972, today it is 10 times bigger and has over 350 species and subspecies. 27 shows take place every day, including sea lions, orcas, dolphins and parrots, so you don't have to worry about missing shows. Loro Parque is located on the outskirts of Puerto De La Cruz, so a rather lengthy car, cab or bus journey will be required.
Ticket prices:
Adult – €34
Children – €23
Tip: Save money by purchasing a twin ticket at Siam Park, which grants you entry to Loro Parque at a cut price or vice versa. You can also add bus travel at a cut price.
Some great reasons to visit Tenerife, wouldn't you agree? If this is your next family holiday destination of choice, check out this guide to Driving in Spain to ensure your trip goes as smoothly as possible!