How to spend 3 days in New York the right way
10 Mar, 2023
Franki Napolitano
2 Comments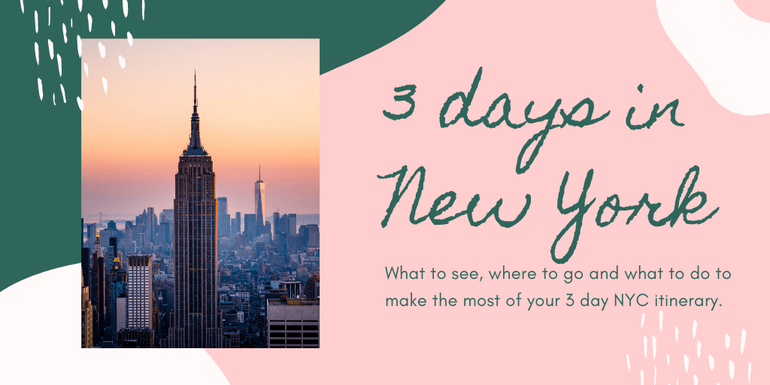 Okay so what would you do with 3 days in New York? With so many activities, sights and parks, not to mention the food and shopping available to you, it can seem rather hectic to cram in as much as everyone tells you "you have to do!"
I must admit, this was me; all of the bright lights of Time Square, the endless shopping opportunities and gastronomical food? How about all of the traffic you hear about and the ferry to catch to explore Ellis Island? It certainly seemed a daunting task, but I was up for the challenge. Read on to discover my "what to see in NYC in 3 days" musts!
In the 3 days in New York I had, I managed to visit, or at least wander through, 17 neighbourhoods across 3 of the 5 boroughs New York is home to, averaging 27,000 steps a day! (Gotta work off all of that delicious food somehow!)
Yes, it was a lot to fit in, but here's how I did it
Starting point: Our cute little AirBnB in Astoria, Northwestern Queens.
Day 1 in New York
To start us off, we purchased the ever useful weekly Metro Pass; $33 got us unlimited use of the subway for up to 7 days, so it was perfect for all the exploring we had planned. I'd highly recommend purchasing one, especially if you're staying outside of Manhattan.
Central Park and Strawberry Fields
Our first stop was a tranquil walk through Central Park; clambering up to the rocks for better views and scurrying down woodland hills, brunch at the Boathouse Cafe and exploring John Lennon's memorial, Strawberry Fields.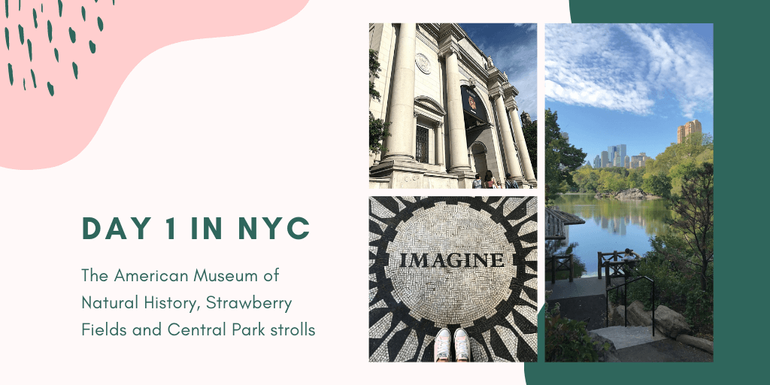 Next a quick walk through the Upper West Side and a glimpse at the American Museum of Natural History before heading for Greenwich Village. Here we took a leisurely stroll all the way through, right across the West Village, Meatpacking District and all the way up to Chelsea Market. The entire walk was stunning; the architecture is simply incredible… I'm such a sucker for that stuff!
The High Line and beyond
Once we had stopped for Saki Sangria in Chelsea Market, next on our 3 day NYC itinerary was climbing the stairs to view the city from the newly constructed High Line. You can choose your view; more impressive architecture and busy roads or new housing developments (which had bathrooms with floor to ceiling windows and giant, freestanding bathtubs 😳) plants and sculptures.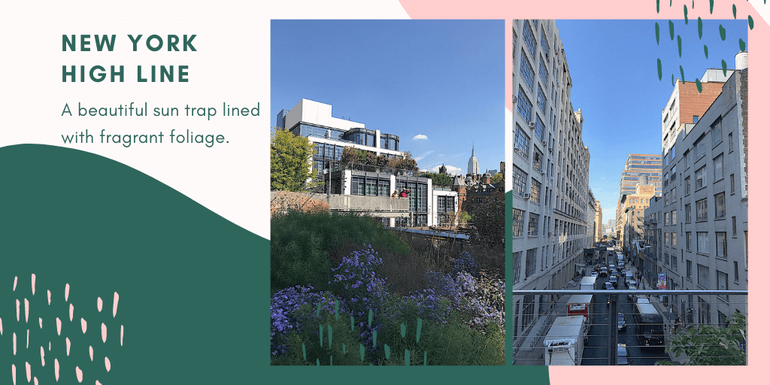 New York itinerary: 3 days to visit. Check out Black Friday travel deals!
And that was all before lunch! Cue a quick stop at the largest Macy's in the world and then food and cocktails at a rather chic rooftop terrace bar in the Garment District. We then had the task of getting back to Astoria for a quick change before dinner in Times Square and catching Kinky Boots on Broadway!
Day 2 in New York
Breakfast in a nearby neighbourhood where we had the choice of good ol' Avocado and Bacon on toast, Quadruple stacked pancakes with a layer of peanut butter in-between each and banana and maple syrup french toast…I know!
Down to the Financial District to marvel at Wall Street; well, we saw the New York Stock Exchange but there was so much construction going on, we needed to get away from the noise!
We happened to stumble across an Oyster festival nearby so spent our time there instead, sampling Mac 'n' Cheese, Guinness, Bourbon Slushies and eventually the Oysters..!
Ellis Island and Statue of Liberty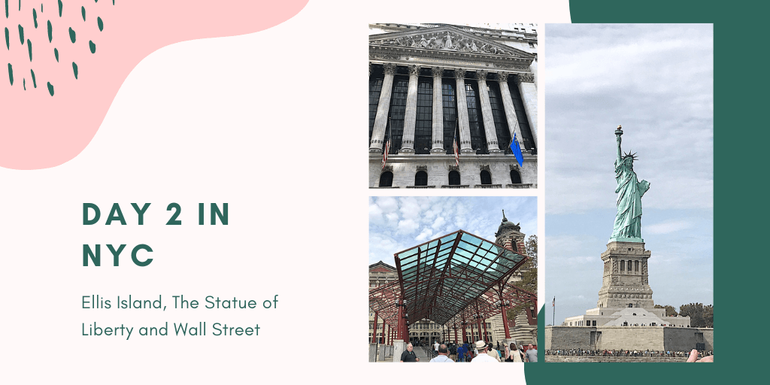 For just $23.80 you can purchase a ferry ticket that transports you over to Liberty Island and Ellis Island. You can get on and off whenever you like, but we decided to just explore the Ellis Island Museum. 90 minutes is enough time to get round and have something to eat in the canteen, which has been restored to resemble the eating halls that the immigrants used!
We then headed back home and went on a hunt for a restaurant in Astoria. It wasn't hard to find one, it was picking the place! We settled on Mexican food which included Cactus Tacos and Strawberry and Basil Cocktails..!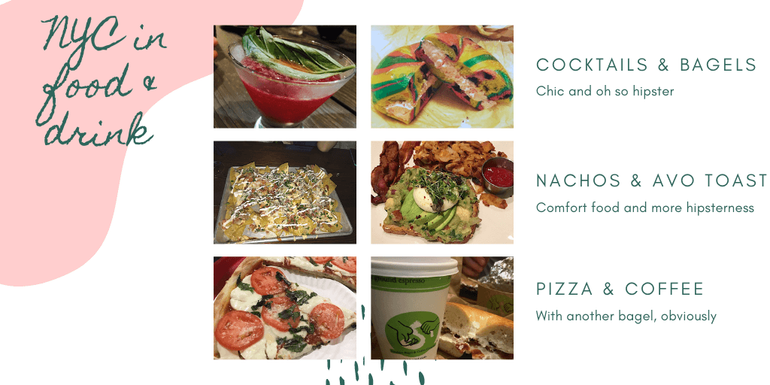 Clockwise from top: Strawberry and Basil Cocktail, Rainbow Bagel with Strawberry Cream Cheese, Avo on Toast, Bagel and Coffee, huge pizza slices and the largest 'Appetiser' Nachos dish I have ever seen!
Day 3 of our New York Itinerary
Day 3: We went on further walks to explore some of the incredible buildings the city is home to. First stop was Times Square by day and to be honest, it looks so much better at night!
Then on to Rockefeller Centre to watch people already out ice skating! (and for a welcome breeze because it was so hot!) 
Brooklyn Bridge, Ground Zero and all that's in-between
This then led us to Grand Central Station which, luckily, wasn't half as busy as I had expected; that was a nice surprise! From here we strolled down Park Avenue, catching a glimpse of the Empire State Building on our way.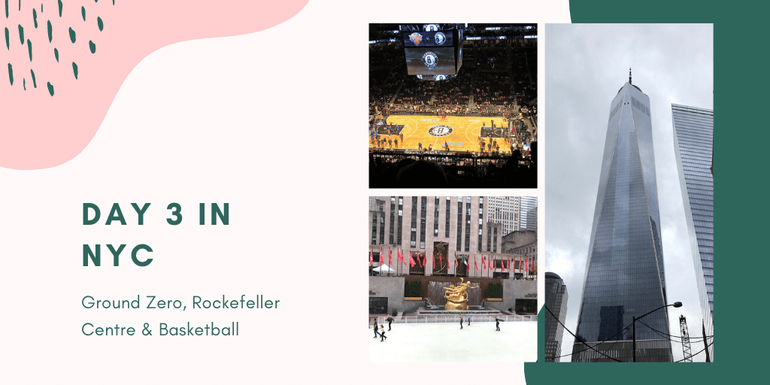 Maybe not the best place for selfies…
Into lower Manhattan to see City Hall and City Hall Park before a sombre visit to the Ground Zero Memorial. I spent a good few minutes here paying my respects at one of the most symbolic memorials I have visited. A huge fountain, lined with hundreds of jets of water, all cascading down into the darkness… The whole memorial is lined with the names of those lost both on 9/11 and the car bombing in the 90s.
The most surprising bit? People taking happy, smiling selfies which I personally thought was rather disrespectful.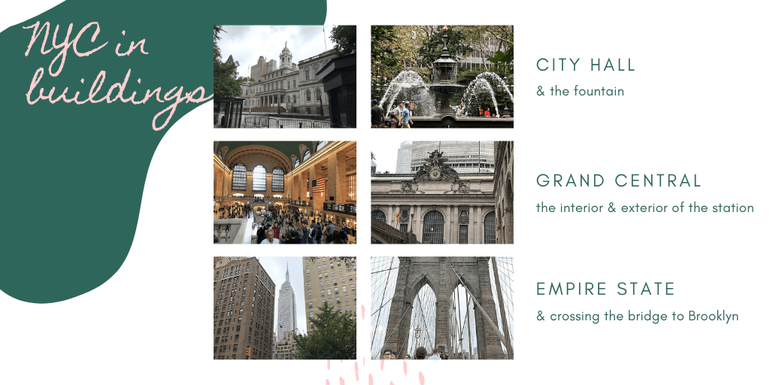 Clockwise from the top: City Hall & City Hall Fountain, Grand Central Station exterior, Brooklyn Bridge, Empire State from Park Avenue and Grand Central interior.
New York itinerary: 3 days to visit. Check out Black Friday travel deals!
Finally, we started on our 30 minute journey across Brooklyn Bridge which was a lot narrower than I had imagined, maybe because of the sheer amount of people on it! But two lanes, one for bikes and one for walking which had to transport people in both directions, meant it was inevitable that you'd be held up by more selfie taking or getting sworn at by cyclists for moving into the bike lane to pass round the dawdlers…
Brooklyn Nets vs. New York Knicks
We couldn't go to NYC without watching the basketball, and we were lucky enough to catch a pre-season friendly between the Knicks and Nets. I've never watched basketball before, but the atmosphere was incredible, the game and the entertainment were great to watch and we had a pretty great view!
We even snuck in a visit to Target to stock up on treats on our way home..!
Before we headed back to JFK, we stopped for brunch in a Louisiana inspired eatery to try the classic Chicken and Waffles, Sausage Gravy and Grits. Safe to say they are three items I probably wouldn't eat again in a hurry, but their Pecan Bacon was something else entirely. 👀
And that's that, that was our 3 days in New York! If you're prepared to do the walking you can certainly do as much as we did if not more!
Just lastly, I had to share my favourite photo of these two rule breakers… just for the laughs.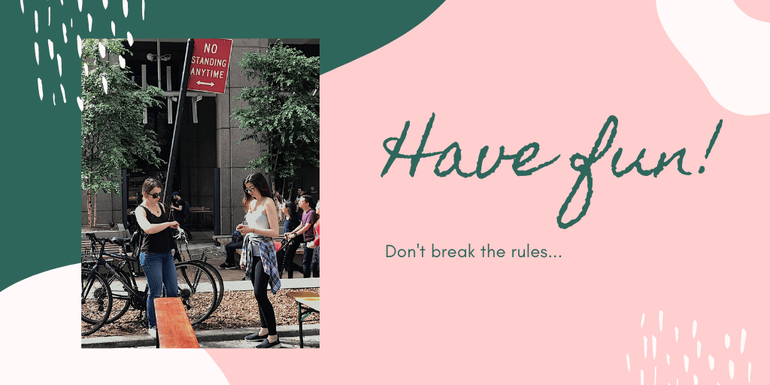 Well, I thought it was funny…