Stansted I Love Park and Ride
Compare and pre-book this car park at Stansted airport to save up to 60% off gate prices.
£ 23.46
Last 7 days
Average Price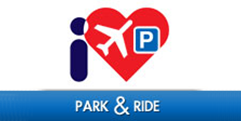 An airport access fee of £3 per vehicle is payable at reception to cover all drop off and collection fees.
Directions
Follow signs from the motorway towards the mid-stay car park, using post code CM24 1PY in your Sat Nav. The car park is located next to Holiday Inn, just opposite MacDonald's and before the BP garage. Turn in to the Holiday Inn entrance and then immediately on the right hand side you'll find the entrance to the car park.

Park and ride contact number is 01279 682233 (Option 1) to contact the drivers should you need help with directions (emergency number is 07794948969).
Arrival procedure
On arrival, please park in a customer parking space on the right hand side and go to the reception to check in before unloading your bags. You will be required to leave your keys.
Return procedure
On your return, please ensure you collect all your luggage and clear customs before calling 01279 682233 (Option 1) to be collected. Then make your way to the forecourt, just outside the terminal doors and wait in Zone C by the flag poles. Please remain on the same level as departures.

Please know that they are unable to wait for more than 5 minutes so it is essential that you are ready to be collected; otherwise you may be liable for any excess fees they incur. Emergency number is 07972 541638.
Security
The car park has 24 hour security including security fencing, gates, lighting and the Park Mark award.
Additional information
The service operates 24 hours a day.

You will be required to leave your keys and your car may be moved and stored in one of their Park Mark car parks, all located within the airport boundary.

Minimum stays/charges may apply at this car park at certain times of the year.

An airport access fee of £3 per vehicle is payable at the reception. The £3 covers fees to the airport to be able to drop off and pick up customers off the terminal forecourt.
Stansted I Love Park and Ride reviews
Our average review score for Stansted I Love Park and Ride is 4.5 from 155 reviews.
No problems dropping the car off here for a few days and was explained to us that when we land make our way to the pick up point and then call and the minibus would pick us up. We came straight out the airport and made our way to the pick up point and a bus was already there. The driver Dave was extremely rude and bad tempered to us saying we should have phoned which we were going to but he was already there!! He did the same to another couple that arrived a few minutes later. Very bad customer service. It doesn't take much to greet your customers with a smile and courtesy. Won't be using again!
March 27, 2019
Polite and friendly staff. Waiting time for taking and fetching minimal. Car ready for pick up when we arrived back at car park. Good value for money. Would use again.
September 15, 2018
DONT. Left our Range Rover Sport there for 7 nights. Was told they would drive the car to another compound for the week (which we expected!) and were told around 5 miles will be used. Took photos of the car and mileage on drop-off. On pick-up; no mileage added to the car BUT 40 miles of diesel used????? AND back seats are all grubby and scratched on the leather, front passenger seat reclined back like a bed on pick-up and the radio stations have all been changed. Seats were IMMACULATE when we dropped with only one scratch on one seat. Clearly being used for either their breaks with the engine running or used throughout the week and mileage clocked back? - not sure which one. Doesn't seem to explain the diesel usage with no clock mileage added. The parking wasn't cheap for the week either so expected better service for the car. On the plus; taxi run and pick up was on time.
August 21, 2018
BEWARE - I left my car here for five days. On returning back had noticed someone had crashed into the front of my car. This company accepted the damage was caused while they had my car but refused to pay for than £20. I am now going through the small claims court to get back over £400 worth of damage caused. AVOID THIS PLACE AT ALL COSTS!!!
July 24, 2018
Very quick and easy. I would use this again. Excellent service.
July 4, 2018
Getting results for Stansted I Love Park and Ride
No results found for Stansted I Love Park and Ride for your chosen dates.
See results for more car parks