Stansted Bubble Park & Ride
Compare and pre-book this car park at Stansted airport to save up to 60% off gate prices.
£ 23.01
Last 7 days
Average Price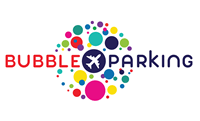 An airport access fee of £4 per vehicle is payable at reception to cover all drop off and collection fees.

Directions
Follow signs from the motorway towards the mid-stay car park, using post code CM24 1PY in your Sat Nav. The car park is located next to Holiday Inn, just opposite MacDonald's and before the BP garage. Turn in to the Holiday Inn entrance and then immediately on the right hand side is the entrance to the car park.
Arrival procedure
On arrival at the car park, please park in a customer parking space on the right hand side. Please go to reception to check in before unloading your bags.
Return procedure
Please ensure you collect all your luggage and clear customs before calling the number on your confirmation (option 1) to be collected. Please make your way to the forecourt, just outside the terminal doors and wait in Zone C by the flag poles. Please remain on the same level as departures.

They are unable to wait for more than 5 minutes so it is essential that you are ready to be collected; otherwise you may be liable for any excess fees they incur.
Security
The car park has 24 hour security including security fencing, gates and lighting. It has been awarded the Park Mark, Safer Parking Award.
Additional information
No height restriction.

An access fee of £4 per vehicle is payable at reception. The £4 covers fees to the airport to be able to drop off and pick up customers off the terminal forecourt.

You will be required to leave your keys and your car may be moved and stored in one of their Park Mark car parks, all located within the airport boundary.
Bubble Park & Deliver - Return Meet
If you book the Bubble Park & Deliver - Return Meet option, your car will be returned to you outside terminal.

On arrival, please drive to the car park following the instructions above and take the 2-3 minute transfer to the terminal.

On return, your car will be brought to your return terminal so you can drive straight home. Clear customs and when you are in the arrivals hall, please call to have your car delivered.

Please know that £2 will be payable at the reception on arrival and £4 on return at the exit barrier per vehicle to cover the airport forecourt fees.

Your car will be unable to be on the forecourt for more than 10 minutes so it is essential that you are ready to collect your car on return and exit the forecourt within the 10 minute period as you will be required to pay the £4 exit fee at the barrier by card or by cash for up to 10 mins.
Stansted Bubble Park & Ride reviews
Our average review score for Stansted Bubble Park & Ride is 4.5 from 35 reviews.
Arrived at car drop off and booked car in this was very simple process then waited over 30 minutes for transfer as only one driver and a small van that seats 6 . This is the longest I have ever waited for a transfer and I been to many . I have already booked airport parking for my trip in 8 weeks and I decided to pay extra for the stanstead mid stay . When we arrived back we also waited 40 mins for our car to be dropped back to us . The transfer bus had made 2 trips by the time we got our car . We waited in designated place by the flags which was on return slip and the spaces where empty and the driver drove straight past and parked some 200 yards up the drop off zone on the other side of the road .we then had to cross back over and walk to the car with suitcases and bags which is very minor but when you state a place to pick up at least arrive at this area as if I never noticed the car pass I would of been charged more to get out the airport over the 10 minutes and walking back and forth in the cold after a long day is not really good . Again waiting in the cold for lengthy time either time was not on the description and for this reason would not use again. I have used many services mainly Gatwick and never experienced this before, car has been dropped back in 10 mins transfers bus has been sat waiting on every trip I have made
October 29, 2019
Although the car park itself was rather an unprepared piece of land the service was excellent with a very rapid transit to and from the terminal.
September 22, 2019
Excellent service from start to finish very smooth operation. Friendly efficient staff take the hassle out of parking for your holiday. Very happy and definitely use the service again.
June 21, 2019
Very good, prompt service!
June 3, 2019
Great service, easy to find with directions and service and the car parking was fab. Car was ready towards the front gate when we landed. Would use again and recommend.
May 22, 2019
Getting results for Stansted Bubble Park & Ride
No results found for Stansted Bubble Park & Ride for your chosen dates.
See results for more car parks