09 Jun, 2014
Jurga Sefton
No Comments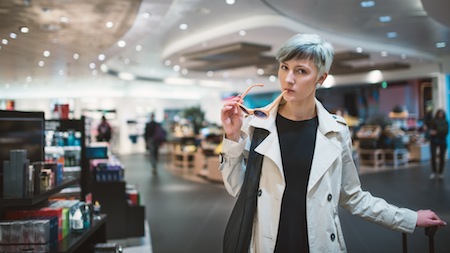 There was a time when flying was the ultimate in glamour, but these days are long gone. In fact, nowadays there are far too many hoodies and tracksuit bottoms in the departures lounges, not to mention the dreaded onesie, which, turns out, is about to be introduced for Virgin Atlantic business class passengers to wear on long-haul flights (limited edition).
Trying out the first ever airline onesie. http://t.co/JOKZCearQl @virginatlantic @OnePiece #UC1Z pic.twitter.com/RLR2fiPBcA

— Richard Branson (@richardbranson) June 6, 2014
Eclectic outfits on display in the check-in queue don't seem to shock anyone anymore; fellow passengers might take a sneaky pic of your flip flops and socks but that's about it. However, whether you are flying long haul or short haul, on a business trip or with a tribe of kids, we have a few tips to ensure that you stay comfortable in the air and land looking stylish.
Socks with sandals AND a Tinkerbell ankle tattoo looking down at her decision disapprovingly. #airportfashion #Vegas pic.twitter.com/BQlzcUr5lZ

— Kelsey Cook (@KelseyCook) May 15, 2014
First of all, wherever you are travelling and whatever the purpose of your trip, the temperature in the cabin can be unpredictable so think in terms of layers. If you need to take a coat or jacket with you, consider wearing it. Not only does it save you having to pack it in your luggage but it can also double up as a blanket. If you are headed to a destination where coats and jackets are definitely not required, then a stylish cardigan and pashmina will keep you warm and can also be tucked away easily if you are hot.
It is harder to step off the plane looking stylish after a long-haul flight unless you are one of the rich and famous who can afford to travel at the front of the plane. If you are on a long flight (especially an overnight one) why not slip into something more comfortable during the flight and change back into your smart clothes prior to landing? Just don't hog the toilets when everyone is queuing to use them!
If you are a business traveller heading straight to a meeting, ask the cabin crew to hang your suit jacket up to reduce the likelihood of it becoming creased. If you have travelled in business class and you can spare the time after landing, you may be able to grab a shower in the lounge and change for your meeting.
When travelling with children, especially if they suffer from motion sickness, have a change of clothes handy, not only for them but for you too. Nothing is worse than having to fork out for an airline t-shirt to change into after you have had sticky fingers (or worse) all over you – not a good look and expensive too!
In a pressurised cabin where it is not always practical to get out of your seat and walk around, it is perfectly normal for feet to swell and clothes to feel a little tight. This is not the time to wear your tight jeans or stilettos, platforms or huge boots (not good for getting through security either). Instead, opt for flat shoes and clothes that will not restrict you.
08 . 06 . 2014 – OMG SO PERFECT! @victoriabeckham at JFK airport. pic.twitter.com/LdqftH8NSb

— Victoria Beckham FR (@VictoriaBFrance) June 9, 2014
Victoria Beckham once said that the airport was her catwalk. What could be better for a celeb (especially a fashion designer) than to be photographed by the paparazzi stepping off the plane looking the ultimate in cool chic? Most of us are not celebs and would be unable to carry off the Lady Gaga look even if we wanted to, but what we wear can still tell others a lot about us. The days of check-in staff upgrading smartly dressed travellers are all but over, but that is no excuse to abandon all sense of style. Worse still is the fact that our appearance can also colour the judgment of airport officials at security when leaving the UK and passport control, immigration and customs on arrival.
As far as travel accessories go, the main thing to consider is a good carry-on case. With the spiralling costs of putting luggage in the hold it is more important than ever to have one that not only complies with the airline's restrictions but will also contain everything we need for the holiday. The cube packing system is becoming popular and promises not only to minimise creasing but to maximise what will fit inside our case. Another handy accessory is an in-flight organiser, preferably one with two compartments: one for take-off and one for touch-down, to avoid the unseemly scrabble in the carry-on luggage for your book or make-up bag.