09 Jun, 2014
Jurga Sefton
No Comments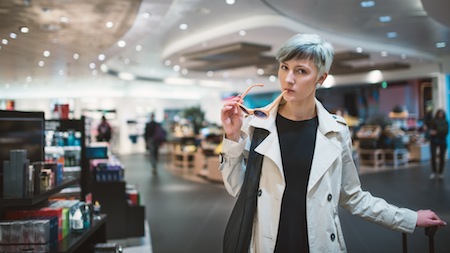 There was a time when flying was the ultimate in glamour, but these days are long gone. In fact, nowadays there are far too many hoodies and tracksuit bottoms in the departures lounges, not to mention the dreaded onesie, which, turns out, is about to be introduced for Virgin Atlantic business class passengers to wear on long-haul flights (limited edition).
Trying out the first ever airline onesie. http://t.co/JOKZCearQl @virginatlantic @OnePiece #UC1Z pic.twitter.com/RLR2fiPBcA

— Richard Branson (@richardbranson) June 6, 2014
Eclectic outfits on display in the check-in queue don't seem to shock anyone anymore; fellow passengers might take a sneaky pic of your flip flops and socks but that's about it. However, whether you are flying long haul or short haul, on a business trip or with a tribe of kids, we have a few tips to ensure that you stay comfortable in the air and land looking stylish.
Socks with sandals AND a Tinkerbell ankle tattoo looking down at her decision disapprovingly. #airportfashion #Vegas pic.twitter.com/BQlzcUr5lZ

— Kelsey Cook (@KelseyCook) May 15, 2014
First of all, wherever you are travelling and whatever the purpose of your trip, the temperature in the cabin can be unpredictable so think in terms of layers. If you need to take a coat or jacket with you, consider wearing it. Not only does it save you having to pack it in your luggage but it can also double up as a blanket. If you are headed to a destination where coats and jackets are definitely not required, then a stylish cardigan and pashmina will keep you warm and can also be tucked away easily if you are hot. Read More
---