17 Feb, 2014
Jurga Sefton
No Comments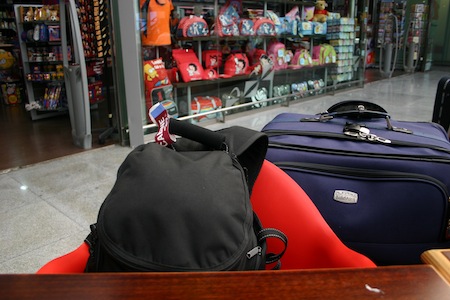 When it comes to our luggage (inside and out) a lot can be revealed about our personality, age and gender.
For instance, are you a roller, a folder or a stuffer?
A report commissioned by a car rental company last summer discovered that 47% of us consider ourselves to be folders, paying great attention to folding our clothes neatly when packing our suitcases. 33% of us prefer to roll our clothes in the belief that this is the best way of fitting more into a suitcase. Of course, with many airlines charging passengers to put luggage in the hold it is unsurprising that we are desperate to maximise our carry-on allowance. 14% of us own up to stuffing our clothes into the suitcase in any old fashion, not caring that we are going to be faced with a crumpled mess at our destination.
The breakdown of packing habits between age groups and gender threw up some surprises. For instance, there is no real gender imbalance with men being just as likely as women to be folders. Whilst one might expect the 18 to 25 year old age group to be most likely to be stuffers, this is not the case, with 68% of them being neat folders.
In actual fact, the guiltiest of the age groups for stuffing clothes in the case willy-nilly is the 26 to 35 year olds who are five times more likely than their younger counterparts to be stuffers. As might be expected, none of the over 66 age group are guilty of messy packing.
When it comes to choosing luggage it seems, from a survey carried out by Virgin Atlantic, that over half of us cling on to the same luggage until it breaks. However, a tenth of us admit to the somewhat shallow practice of buying luggage to outdo our travelling companions. The age group most likely to be influenced by the luggage they see celebrities carrying is the 16 to 24 year olds with a quarter saying they would buy luggage on this basis.
According to Virgin Atlantic, the popularity of designer trunks is on the rise, with celebrities such as the Beckhams and Madonna favouring the style. This sort of luggage is seen by the owners as defining their status and achievements in life.
The suitcases in zany zebra stripes, leopard spots or fluorescent colours (favoured by the likes of Kerry Katona) may be easy to spot on the conveyor belt, but it takes a certain type of person to carry off this look. According to a leading behavioural expert, the owner of this sort of luggage is likely to be scatty and attention-seeking.
Prince Harry and Daniel Craig are amongst the fans of the holdall, the must-have luggage for those who prefer to travel light. The holdall brigade is likely to be practical, confident and optimistic.
The corporate case is the most popular style of luggage for Virgin Atlantic's Upper Class passengers. Favoured by those who know they have "made it" and have no need to flaunt the fact, the owners are likely to be practical and focused. Pop stars Frankie Sanford and Harry Styles both favour this type of luggage.
The rucksack oozes a sense of practicality over style and is favoured by the eternal teenager who dislikes being pressured or pinned down. Celebrity owners include Justin Bieber and Chris Brown.
Having looked at how we pack and what we pack our belongings in, what do we actually take on holiday with us and how much is it worth?
38% of us think the value of our belongings is less than £500, which, given that 91% of us take an expensive electronic device with us, could be on the low side.
The most common electrical devices are smartphones, iPads and cameras. It seems that men may have a more realistic idea of value with 10% more men than women saying their belongings are worth £500 to £1,000. The over 66 age group believe their belongings to be worth the most (£1,000 to £2,000), despite the fact that only half of them take a phone or camera on holiday.
Some of the most bizarre items to be packed by those surveyed were a kayak, a surround sound system and a brass tenor horn.