Find out everything about the UK's New Coronavirus Travel Restrictions
21 Oct, 2021
Alice Fowler
2 Comments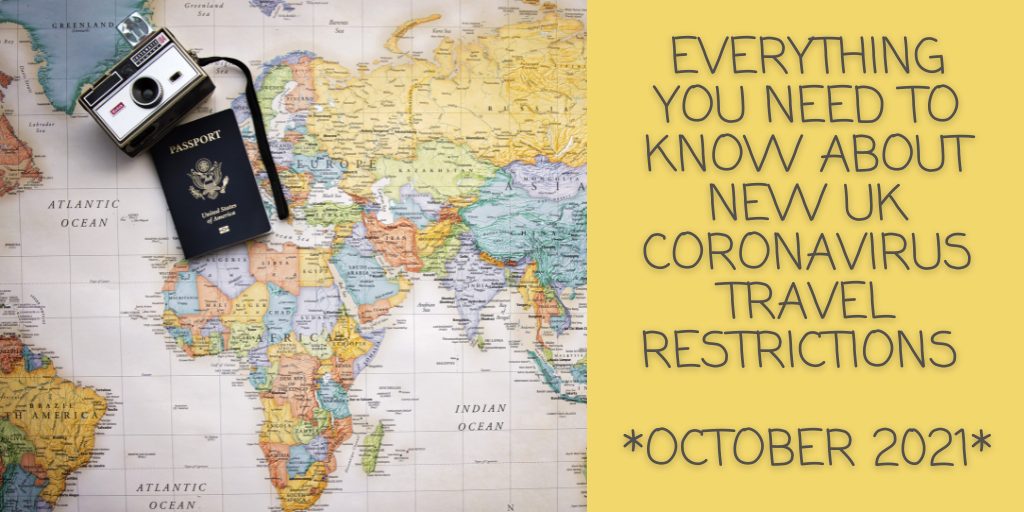 We are keeping the on coronavirus travel restrictions as up to date as we can, given the guidance provided by the UK Government. Last updated October 21st 2021.
Since May, we've been following the traffic light system for travel, with countries being added and taken away every three weeks. However, since the 4th of October, there will no longer be amber and green lists but the red list will stay. So what are the rules for countries that aren't on the red list? Well, that depends on your vaccination status! As for the red list countries, the rules stay the same as before. Below, we list the new coronavirus travel restrictions rules!
Fully Vaccinated* People Travelling from Non-Red List Countries:
You'll need to book and pay for the day 2 COVID-19 test after returning to the UK. But the good news is that from the 24th October, you'll no longer need to take the pricey PCR test and a simple lateral flow test will do! But please note that the free NHS test won't count, you'll still need to book it through the government's site.
You'll need to complete your passenger locator form. This will need to be completed 48 hours before your arrival time
On day 2, take your booked COVID-19 test
Please note that you have to be able to prove that you've been vaccinated at least 14 days before your travel date. You can show this proof by showing either a digital or paper-based NHS COVID Pass.
The pass must include the following:
Your first and last name and must match the name on your passport
Date of birth
The brand of vaccine and its manufacturer
The date you were given each dose
Country where it was given
If your NHS Covid Pass doesn't list any of these or the details are incorrect, you'll have to follow the rules for non-vaccinated travellers. If you don't follow those rules, you may not be allowed to board.
If you were fully vaccinated in the USA, you will need to show a CDC card. The card will need to show you've had an FDA-approved vaccine in the USA. On top of this, you'll need to be able to prove that you're a USA resident.
If you were fully vaccinated in Europe, you'll need to show an EU Digital COVID Certificate (EU DCC). This certificate will need to show that you've had a full course of either a Swissmedic or an EMA approved vaccine.
But if you're fully vaccinated but don't fall under any of these rules, then you'll have to follow the non-vaccinated rules.
*By fully vaccinated, it means you'll have been vaccinated under a recognised vaccine programme from either UK, Europe, USA or a UK vaccine programme abroad. You can check out more information about this on the government website!
If you are under 18, no matter your vaccination status, the same rules apply to vaccinated people.
Non Vaccinated People Travelling from Non-Red List Countries:
If you've not been vaccinated, or you're only partially vaccinated or you don't qualify as fully vaccinated under the rules, then you'd need to follow these rules.
Before arriving in England, you must do the following:
Take a COVID-19 test and you'll need to make sure that it's within 3 days of your arrival time in the UK
Ensure that you have booked and paid for your day 2 & 8 COVID-19 test
Fill in your passenger locator form and this can be done 2 days before your arrival time in the UK
After you've arrived in the UK, you must do the following:
Either quarantine at home or another place where you can stay for 10 days
Ensure you take your day 2 and 8 COVID-19 tests
If you want to end quarantine early, you can sign up for the Test to Release scheme.
What are the rules for Red List Countries?
Regardless of your vaccination status, if you're coming from a red list country or you've been there for the past 10 days, you'll only be allowed access to the UK if you're a British or Irish resident.
Before arriving in the UK, you must:
Take a pre-departure COVID-19 test and this will need to be taken no more than 3 days before your arrival time
Make sure you've booked a quarantine hotel package
Fill in your passenger locator form online
Once you've arrived in the UK, you'll have to quarantine in one of the quarantine hotels.
What is the £2,285 Hotel Quarantine Rule?
Upon arrival in The UK, you will be escorted to one of the Government approved hotels for 10 days. During this time, you will be required to take a test on day 2 and day 8 of your quarantine and you mustn't leave your room.
You will be required to pay £2,285 to cover your 10-day stay, your tests and transportation costs. Failure to adhere to these rules can lead to large fines and even prison sentences. For instance, not taking your first or second test will lead to a £2,000 fine, whilst failure to disclose that you have travelled from or through one of the red list countries 10 days before arrival can lead to a penalty of up to £10, 000!
Which countries are on The Red List?
Colombia
Dominican Republic
Ecuador
Haiti
Panama
Peru
Venezuela
This list is up to date as of 20/10/2021
If you book a trip or if you already have a trip booked, don't forget to check out what airport parking companies are doing to keep travellers safe at this time. Many car parks are reopening and offering socially distanced and safe drop-off procedures so go ahead and run a quote to see how much you could save!
We hope this helped you to understand the new rules! If anything is unclear or you've questions about something, please let us know in the comments and we'll try our best to answer them.