Travel Corridors: What Are They & How Can They Impact My Holiday
23 Feb, 2021
Alice Fowler
No Comments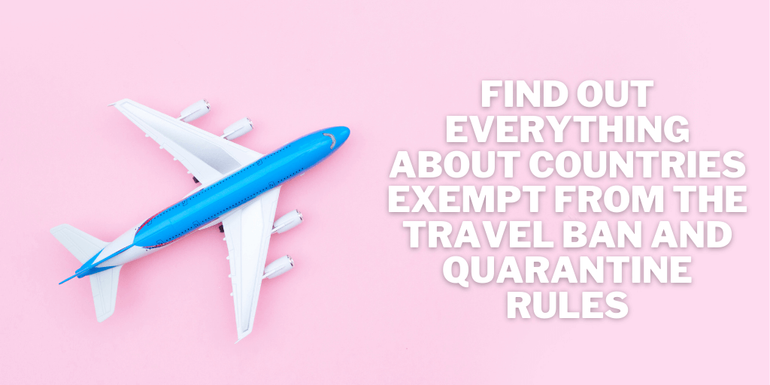 And so, we find ourselves in another National Lockdown, and with it, more coronavirus travel restrictions. The summer of 2020 brought us some hope that we could return to "normal" fairly quickly, we were even allowed to travel to a long list of our European neighbours, subject to some quarantine/negative test result stipulations. Sadly, however, this is no longer the case as we see the closure of our travel corridors whilst we continue the battle against the spread of COVID-19.
Whilst we aren't quite there yet, the PMs' announcement on February 22nd has given us a glimmer of hope that this summer, we could be enjoying holidays once more.
We are keeping this information as up to date as we can, given the guidance provided by the UK Government. Last updated February 23rd 2021.
When can we fly abroad again?
A decision about overseas travel will be made on April 12th, the day on which UK, self-contained holidays can commence (as long as there is no mixing of households). It has been said that hotels and holiday homes can re-open from May 17th, leading us to believe overseas travel will be permitted. However, this has been stated as the 'earliest possible date' so could still very well change.
Vaccine Passports
Yes, you read that right, people who have received the vaccine will also be able to have a vaccine passport in the shape of an app that is said to be ready "within weeks".
The International Air Transport Association (IATA) have created a digital pass for those that have received the jab to verify their vaccination to Border Control forces.
This news would mean we would no longer need the hotel quarantines and mandatory tests as we currently have (see the section below on the current UK Travel Ban which is still in place as of February 23rd).
What countries are on the 'Green List'?
Using data obtained by The Telegraph, there are 5 countries that could be on our Green List for the summer, when basing their predictions on the following;
How is the vaccination drive going?
Did it reopen to UK arrivals in 2020, without quarantine?
Is the Government in support of vaccine certification to waive quarantine for arrivals?
What are the current case numbers?
Does it have hotel quarantine, or other prohibitive border policies in place?
Their findings concluded that Greece, Iceland, Seychelles, Israel and The Caribbean could all be potential destinations for UK holidaymakers come July 2021. We'll check back here closer to the time to see if they were correct!
What is a Travel Corridor?
A Travel Corridor is where there's an agreement between two countries regarding quarantine or vaccination requirements, which deems it safe to travel between them.
In the early summer of 2020, The UK had Travel Corridors with various countries, including Greece and Slovakia. These were eventually removed over the course of a few months until the complete ban on non-essential international travel.
Where can you travel to in Europe and do you have to quarantine?
As of January 18th 2021, all UK Travel Corridors have been suspended. This means, regardless of where you travel back from, you will need to self isolate for 10 days.
You are now also required to provide evidence of a negative COVID-19 test, taken within the previous 3 days, as well as a complete passenger locator form. Failure to do so may result in your airline refusing your boarding and a fine upon landing.
What is the UK Red List & Travel Ban?
On February 9th, Matt Hancock released a list of countries from which travel to the UK will be rejected. The 33 listed countries are predominantly from South America and southern Africa, as this is where new variants of Covid-19 have been thought to have originated.
Travel is ONLY permitted from these countries if you are a UK National or have residency rights here.
Which countries are on The Red List?
Angola
Argentina
Bolivia
Botswana
Brazil
Burundi
Cape Verde
Chile
Colombia
Democratic Republic of Congo
Ecuador
Eswatini
French Guiana
Guyana
Lesotho
Malawi
Mauritius
Mozambique
Namibia
Panama
Paraguay
Peru
Portugal (including Madeira and the Azores)
Rwanda
Seychelles
South Africa
Suriname
Tanzania
Uruguay
United Arab Emirates
Venezuela
Zambia
Zimbabwe
What is the £1,750 Hotel Quarantine Rule?
Upon arrival into The UK, you will be escorted to one of the Government approved hotels for 10 days. During this time, you will be required to take a test on day 2 and day 8 of your quarantine and you mustn't leave your room.
You will be required to pay £1,750 to cover your 10-day stay, your tests and transportation costs. Failure to adhere to these rules can lead to large fines and even prison sentences. For instance, not taking your first or second test will lead to a £1,000 and then a £2,000 fine respectively, whilst failure to disclose that you have travelled from or through one of the "red list" countries 10 days prior to arrival can lead to a whopping 10-year prison sentence.
Where can you travel to worldwide?
We've laid out the coronavirus travel restrictions that are in place for some of the major countries outside of Europe.
| Countries exempt from the travel ban | Do you need to quarantine on arrival to this country? | Is it accepting travellers from the UK? | Do you need to quarantine upon returning to the UK? |
| --- | --- | --- | --- |
| Australia | Yes, for 14 days | No, unless you are an immediate family member of an Australian citizen | No |
| Canada | Yes, for 14 days | No, unless you are an immediate family member or for essential work | Yes, for 14 days |
| Hong Kong | Yes, for 21 days | Only for Hong Kong residents. | No |
| Japan | Yes, for 14 days | Only Japanese Nationals | No |
| New Zealand | N/A | Only New Zealand citizens or residents | No |
| United States | N/A | No | N/A |
If you book a trip or if you already have a trip booked, don't forget to check out what airport parking companies are doing to keep travellers safe at this time. Many car parks are reopening and offering socially distanced and safe drop-off procedures so go ahead and run a quote to see how much you could save!