Travel Corridors: What Are They & How Can They Impact My Holiday
19 Jul, 2021
Alice Fowler
2 Comments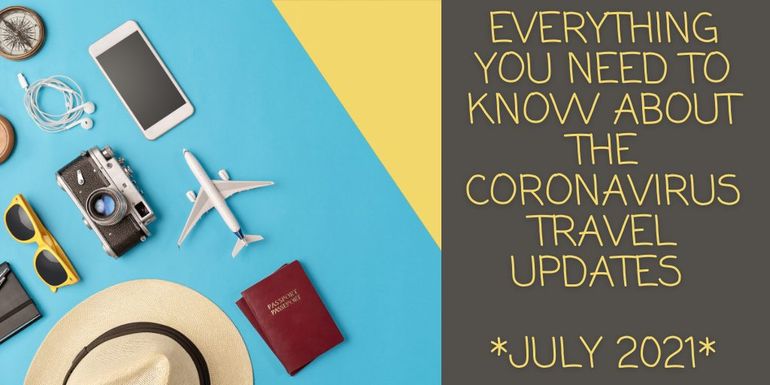 We are keeping this information as up to date as we can, given the guidance provided by the UK Government. Last updated July 19th 2021.
Whilst we aren't quite there yet, the PMs' announcement back on February 22nd gave us a glimmer of hope that this summer, we could be enjoying holidays once more. Following on from the latest discussions in May 2021, we have welcomed back the "Traffic Light System" of countries we can visit and those we can't, meaning a summer of safe travel may not be too much of a stretch to imagine.
Jump to: What are Travel Corridors | Can we fly abroad? | Trafic Light System | UK Red List | UK Amber List | UK Green List | Vaccine Passports | Hotel Quarantine
What is a Travel Corridor?
A Travel Corridor is where there's an agreement between two countries regarding quarantine or vaccination requirements, which deems it safe to travel between them.
You may remember in the early summer of 2020, the UK had Travel Corridors with various countries including Greece and Slovakia. These were eventually removed over the course of a few months until the complete ban on non-essential international travel by the end of the same year.
When can we fly abroad again?
As of May 17th, hotels and the like were given the go-ahead to open, allowing for staycations to resume.
Now the Traffic Light system of countries has been released too, we are now able to travel overseas for leisure. However, this is a vry small list of countries, some of which aren't accepting travellers from the UK…
What is the Traffic Light System?
As you can imagine, this is where we see varying levels of leniency on entering the UK as per the below:
Red – You will only be permitted to travel to the UK from these countries if you are a British National or resident returning home. You will need to isolate in a Government approved quarantine hotel at your own expense.
Amber – You will need to quarantine at home or the place you are staying for 10 days. Early release may be possible through the Test to Release scheme.
Green – There won't be a need to quarantine but a test before departure and arrival will be required.
What is the UK Red List & Travel Ban?
On February 9th, Matt Hancock released a list of countries from which travel to the UK will be rejected. As of July 2021, the list currently sits at 50+, but this will fluctuate as countries move to and from the Amber and Green Lists.
Travel is ONLY permitted from these countries if you are a UK National or have residency rights here.
Which countries are on The Red List?
Afghanistan
Angola
Argentina
Bahrain
Bangladesh
Bolivia
Botswana
Brazil
Burundi
Cape Verde
Chile
Colombia
Democratic Republic of Congo
Costa Rica
Cuba
Dominican Republic
Ecuador
Egypt
Eritrea
Ethiopia
French Guiana
Guyana
Haiti
India
Indonesia
Kenya
Lesotho
Malawi
Maldives
Mongolia
Mozambique
Myanmar
Namibia
Nepal
Oman
Pakistan
Panama
Paraguay
Peru
Phillipines
Qatar
Rwanda
Seychelles
Sierra Leone
Somalia
South Africa
Sri Lanka
Sudan
Suriname
Tanzania
Trinidad and Tobago
Tunisia
Turkey
Uganda
United Arab Emirates
Uruguay
Venezuela
Zambia
Zimbabwe
Before departure, you will be required to fill out a passenger locator form, take a test and book a quarantine hotel package, including 2 more tests. Once back in the UK, you'll be required to stay in your quarantine hotel for 10 days.
What countries are on the Amber List?
The list of countries and territories below still shouldn't be travelled to for leisure. Before you travel to the UK from one of them, you must complete a passenger locator form and take a COVID-19 test.
Once back in the UK, you must book and pay for day 2 and day 8 COVID-19 travel tests and quarantine either at home or where you're staying.
You may be able to leave quarantine early thanks to the Test to Release scheme.
UPDATE: If you're fully vaccinated, you're going to be able to travel to these countries without having to quarantine. You'll still have to take the COVID-19 test three days before departures and take the PCR test on the second day after your return. But now, you'll no longer need to take the test on the 8th day. 
You need to make sure that the vaccine has been given to you at least 14 days before your travel and you'll be required to give proof of this. You can do that by showing them your NHS Covid Pass which you can obtain via the NHS app. 
The under 18s won't have to self-isolate either. Children that are under 10 will not need to take the test before departure if you're travelling from England, however, they will still need to take the PCR test on the second day. Children under four don't have to take any tests!
The same rules will apply to Scotland from July 19, if you're fully vaccinated or over the age of 12, you'll have to take the COVID-19 test before travelling and then on the second day after your return. 
In Wales, if you're fully vaccinated or under 18, you will no longer need to take self-isolate when coming back from the above-listed countries. 
Northern Ireland is predicted to introduce the same system from the 26th of July.
So, as of 19th July, the UK Amber List countries are;
Akrotiri and Dhekelia
Albania
Algeria
Andorra
Armenia
Aruba
Austria
Azerbaijan
The Bahamas
Balearic Islands (Formentera, Ibiza, Mallorca, Menorca)
Belarus
Belgium
Belize
Benin
Bhutan
Bonaire, Sint Eustatius and Saba
Bosnia and Herzegovina
British Antarctic Territory
British Virgin Islands
Burkina Faso
Cambodia
Cameroon
Canada
Central African Republic
Chad
China
Comoros
Congo
Cook Islands
Côte d'Ivoire
Curaçao
Cyprus
Czech Republic (Czechia)
Denmark
Djibouti
Dominican Republic
El Salvador
Equatorial Guinea
Eritrea
Estonia
Fiji
Finland
France
French Polynesia
Gabon
The Gambia
Germany
Ghana
Greece (including islands)
Greenland
Guadeloupe
Guatemala
Guinea
Guinea-Bissau
Haiti
Honduras
Hungary
Iran
Iraq
Italy
Jamiaca
Japan
Jordan
Kazakhstan
Kiribati
Kosovo
Kuwait
Kyrgyzstan
Laos
Latvia
Lebanon
Liberia
Libya
Liechtenstein
Lithuania
Luxembourg
Madagascar
Malaysia
Mali
Marshall Islands
Martinique
Mauritania
Mauritius
Mayotte
Mexico
Micronesia
Moldova
Monaco
Mongolia
Montenegro
Morocco
Nauru
Netherlands
New Caledonia
Nicaragua
Niger
Nigeria
North Korea
North Macedonia
Norway
The Occupied Palestinian Territories
Palau
Papua New Guinea
Poland
Portugal (including the Azores)
Réunion
Romania
Russia
Samoa
San Marino
Sao Tome and Principe
Saudi Arabia
Senegal
Serbia
Slovenia
Solomon Islands
South Korea
South Sudan
Spain (including the Canary Islands)
St Kitts and Nevis
St Lucia
St Martin and St Barthélemy
St Vincent and the Grenadines
Sweden
Switzerland
Syria
Tajikistan
Thailand
Timor-Leste
Togo
Tonga
Tunisia
Turkmenistan
Tuvalu
Uganda
Uganda
United States (USA)
Uzbekistan
Vanuatu
Vietnam
Wallis and Futuna
Yemen
What countries are on the Green List?
From 19th July, the below locations will be on the UK Green List, meaning you can travel to the UK without the need to quarantine.
You will however still be required to fill out a passanger locator form, take a COVID-19 test prior to your flight and take another test on or before day 2 after you arrive.
The Green List Countries will be;
Anguilla
Antarctica/British Antarctic Territory
Antigua and Barbuda
Australia (although they aren't currently allowing people from the UK)
Barbados
Bermuda
British Indian Ocean Territory
Brunei (although they aren't currently allowing people from the UK)
Bulgaria
Cayman Islands
Croatia
Dominica
Falkland Islands
Faroe Islands
Gibraltar
Grenada
Hong Kong
Iceland
Israel and Jerusalem (Foreign Office are currently advising not to travel there)
Madeira
Malta
Montserrat
New Zealand (although they aren't currently allowing people from the UK)
Pitcairn, Henderson, Ducie and Oeno Islands
South Georgia and South Sandwich Islands
St Helena, Ascension and Tristan da Cunha
Taiwan
Turks and Caicos Islands
Vaccine Passports
**Update**: In an announcement on April 28th from Grant Shapps, UK Transport Secretary, it was confirmed an NHS app will be used as a COVID passport for travel abroad.
The app is believed to be the one you would usually book appointments through and not the Track and Trace app you use when visiting shops and restaurants for example.
The use of the app will be to prove that you have either had both doses of the vaccine or that you have had a recent negative test.
In addition to this, The International Air Transport Association (IATA) have created a digital pass for those that have received the jab to verify their vaccination to Border Control forces.
This news would mean we would no longer need the hotel quarantines and mandatory tests as we currently have.
What is the £1,750 Hotel Quarantine Rule?
Upon arrival into The UK, you will be escorted to one of the Government approved hotels for 10 days. During this time, you will be required to take a test on day 2 and day 8 of your quarantine and you mustn't leave your room.
You will be required to pay £1,750 to cover your 10-day stay, your tests and transportation costs. Failure to adhere to these rules can lead to large fines and even prison sentences. For instance, not taking your first or second test will lead to a £1,000 and then a £2,000 fine respectively, whilst failure to disclose that you have travelled from or through one of the "red list" countries 10 days prior to arrival can lead to a whopping 10-year prison sentence.
If you book a trip or if you already have a trip booked, don't forget to check out what airport parking companies are doing to keep travellers safe at this time. Many car parks are reopening and offering socially distanced and safe drop-off procedures so go ahead and run a quote to see how much you could save!