On a budget? How to Bag a Cheap Holiday this Summer
20 Jul, 2021
Franki Napolitano
No Comments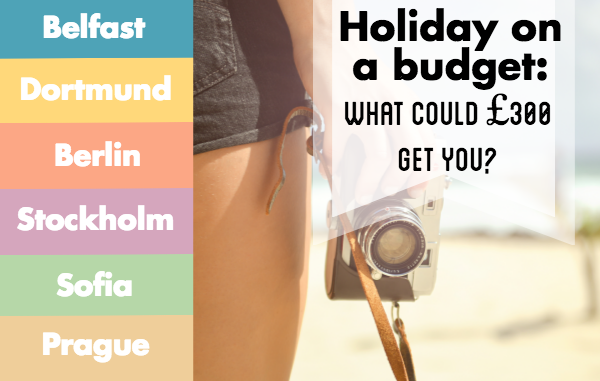 We like a challenge in the APS team, and the first one of the year has already been completed; finding the best value holiday on a budget!
With a budget of up to £300 per traveller, we were set the task to find the best value for money getaway in the middle of August 2017,  based on two people sharing.
The trip could be anywhere in the world but the budget needed to include flights, accommodation and food for 5-7 nights.
All of our searches covered 5 nights, August 14th – 19th, flying from a London Airport.
Interestingly enough, the three of us that took part came back with very different results, depending on the sort of holiday we'd enjoy ourselves, meaning we could bring you multiple options depending on your budgets and tastes. We've covered everything from private rooms in a shared house to serviced apartments and luxurious 4* suites with breakfast.
Keep scrolling to see what we found; the question is, can we tempt you to book a sneaky summer getaway?!
Watching the pennies
You want to get away and aren't too fussy about your accommodation type or having a completely central location…if that sounds like your approach to booking a break, these may be right up your street.
Belfast, Northern Ireland
Flight: £41pp via Skyscanner
Accommodation: £114 for 5 nights, via Air BnB
Total: £155
Ok so the cheapest deal we found was a trip to Belfast for a total of £155 for 2 people's flights and lodging!
You'd be staying in a private room with a bathroom in a shared house just off of the famous Lower Falls Road, with easy access to plenty of local amenities including shops, bars and restaurants.
Staying well within your budget, you could enjoy a 3 course dinner for two on two nights,  grab lunch for around £10 all week and enjoy a few local beers, whilst also visiting a few beautiful art galleries and country parks and still having around £280 to spare. What could you do with it?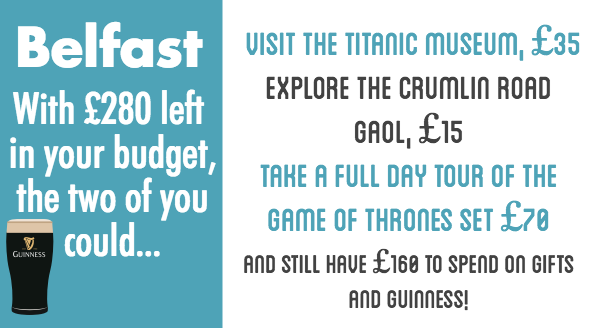 Dortmund, Germany
Flight: £53pp via Skyscanner
Accommodation: £51 for 5 nights via Air BnB
Total: £157
Up next was a trip to the beautiful city of Dortmund with flights and lodging coming to a mere £157 for 2 people!
This would get you flights to the city and 5 nights in a private room in a shared apartment; perfect for students or those that wouldn't be in the property all day.
However, as this didn't cover food we did a quick breakdown of costs and found that you could do a small grocery shop, picking up 1kg of chicken breasts, potatoes, cheese, bread, and a selection of fruit and veg, plus milk and bottles of water for less than £20!
So what could you do with the remaining £423?! Well…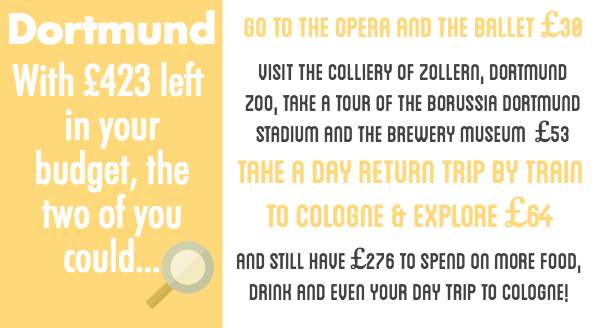 Loosening the purse strings a bit
If staying in a hostel or shared apartment isn't your cup of tea, perhaps something like this is a little more to your taste…
Berlin, Germany
Flights: £70pp via Kayak
Accommodation: £206 for 2 people, via Expedia
Total: £346
For just £346, the two of you could get flights and a 5 night stay in a 4* boutique hotel, but you'd need to head out to one of the many cafes for your breakfast. That shouldn't be a problem though, not when you could spend roughly £7 on a meal and pick up snacks and treats form local delis.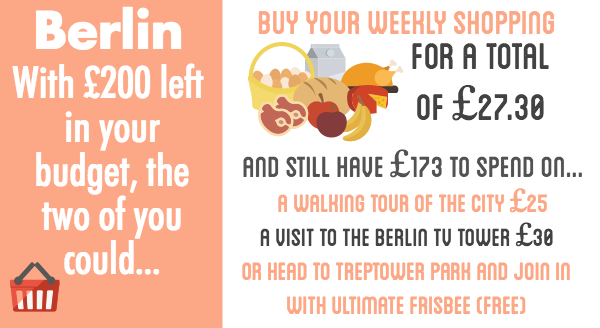 Stockholm, Sweden
Flights: £62pp via Kayak
Accommodation: £261 for 2 people, via Expedia
Total: £385
Spending a little extra on this trip meant you benefit from a private hotel room with complimentary continental breakfast.
There is plenty to do for free in Stockholm; why not take a free guided tour of the worlds longest art gallery, the Stockholm Subway? Visit one of the many free museums and galleries, make the most of the weather and spend some time exploring the beaches or even picnic amongst the flowers in the Djurgården.
And the remaining £215…?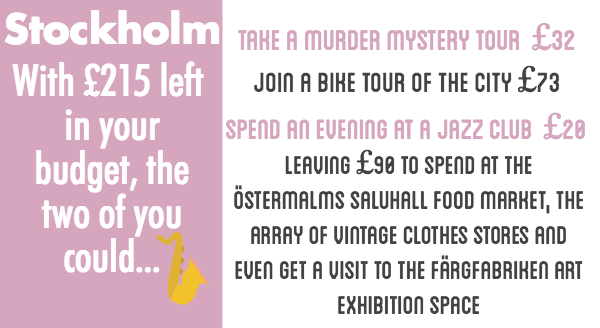 Going all out
If the previous options are still a little too basic, how about these destinations? The initial cost may be a little higher, but look at what you can get for your money…
Sofia, Bulgaria
Flight: £140pp Via Skyscanner
Accommodation: £106 for 2 people via Booking.com
Total: £386
Ok so this may be bit a little more pricey, but you'd be staying in a private, serviced apartment, with breakfast included, just 7km from the airport.
With this particular apartment, you were right next to a local grocery store where a small weekly shop would cost you just £12.95! You could also head out for a nice 3 course dinner on three of the 5 nights, dine out for practically all other meals and get 25km worth of taxis. You'd still have £94 to play with, too…so what else could you squeeze in?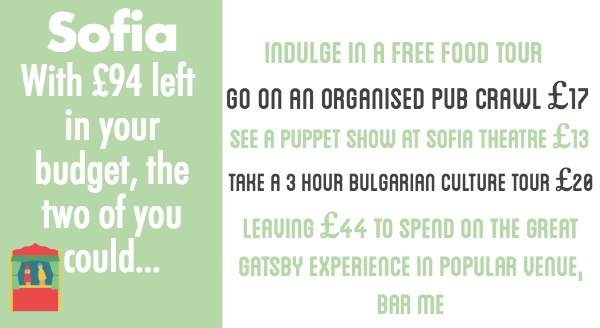 Prague, Czech Republic
Flights: £86pp via Skyscanner
Accommodation: £220 for 2 people via LastMinute.com
Total: £392
Last on our list was a visit to the beautiful city of Prague, this time, enjoying the luxuries of a Junior Suite in a 4* hotel with complimentary breakfast. Whilst, again, the initial cost comes in a little higher, once you arrive at your destination, you have plenty of ways to spend the left over £208…
Want to enjoy a 3 course dinner at a good restaurant 3 times that week? You can. Want to eat the rest of your meals out? You can. Want to have a great day out or celebrate a special occasion one evening? You can…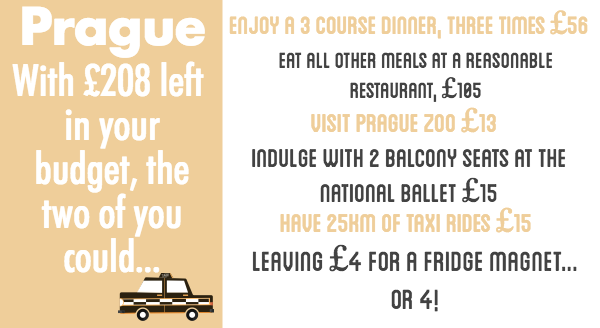 So with a selection of destinations and budgets catered for, which one will you pick?! Make your trip easier and meet up with a trusted local who can show you around, take you on the best tours, show you the best views and suggest the best watering hole..!
*Prices based on research conducted in February 2017