20 Dec, 2016
No Comments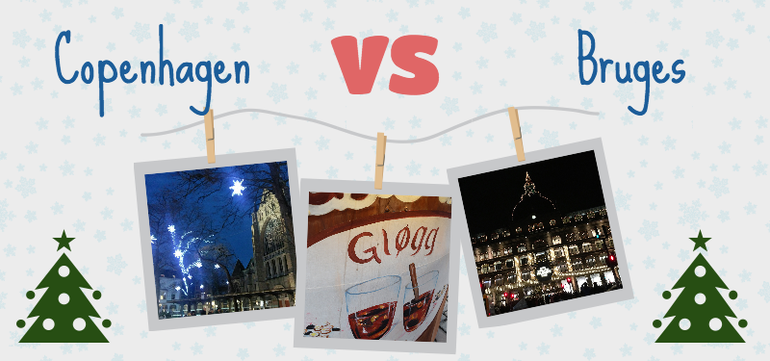 It's December and even in the UK Christmas Markets are popping up everywhere you look in towns and city centres, but there's nothing quite like popping across to the mainland and finding some real Christmas infused locations to visit for a weekend. There are so many choices however, we've picked two of the popular ones and pitched them against each other – let's find out which one's the winner!
Members of our team visited both places on the same weekend for a festive getaway, and picked out some key highlights and things to know so you get the most out of your weekend away.
Christmas Markets
Well, it's the main reason you've come, isn't it?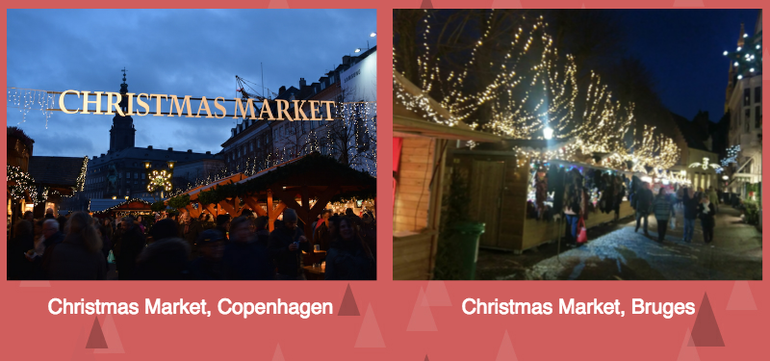 Copenhagen
The city has plenty to choose from, however, our opinion was that if you want something a little different head down to Christiana where amongst the normal eclectic markets available there's also an indoors one where plenty of goods can be found, not just Christmas themed. From hats handmade in Nepal, to locally made produce and beautiful Christmas ornaments, it's easy to spend an hour or two browsing! Just be careful of the opening hours and be prepared to queue as there is a limited capacity inside. If you want something a bit more standard, head across the new pedestrian bridge near Papiroen and browse the markets at Nyhavn, where you'll find gløgg and treats galore.
Bruges
There are fewer Markets in Bruges but the aptly named Market Square has a good-sized market with lots of options of food and drink, and there is also an ice skating rink if you fancy a bit of exercise to work off all that glühwein and chocolate! Read More
19 Dec, 2016
No Comments
As we near the end of the year we can take a moment to reflect on what a great 12 months it's been!
2016 saw the world reliving their childhood through PokemonGo,  falling in love with Tim Peake and Andy Murray, seeing more female athletes compete in an Olympic games then ever before and cheering for Leo when he finally won his well overdue Oscar! Read More
06 Dec, 2016
2 Comments
Can you believe it's that time of year again!? We're happy to say that it's been another great year here at Airport Parking Shop, so much so that we thought we would celebrate with a giveaway for our fantastic customers!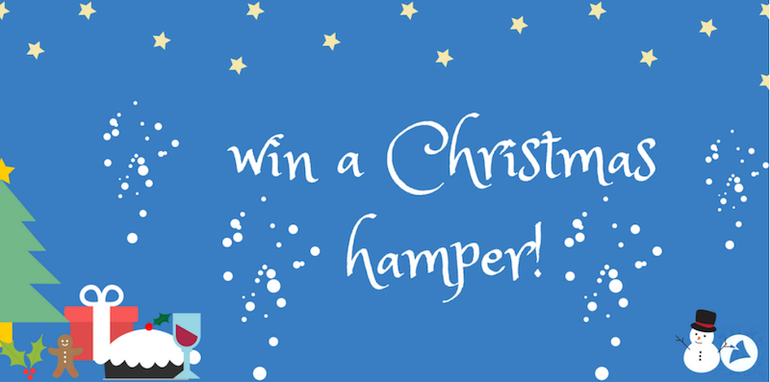 05 Dec, 2016
No Comments

Ah Christmas, a time of happiness, generosity and general merriment.
This season, the internet will be awash with blogs on the "Best Christmas Markets", "The places you MUST visit" or the "Alternative Christmas traditions" so this year, we thought we'd take a tongue in cheek look at The Christmas Expectations vs. Realities, and we can almost guarantee you can relate to some of them!
Below you'll find 16 of the most exciting things about Christmas, but with a swift click or swipe to the right, you'll reveal the reality to the expectation. Read More