Best reactions to flight delays
19 Jul, 2021
Franki Napolitano
No Comments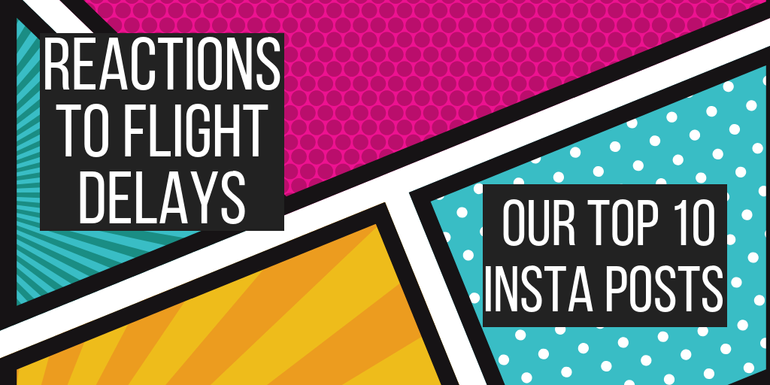 It's inevitable sometimes, but delayed flights do happen and boy are they annoying! Some people take to social media to rant about the disruption to their trip, others however find more creative ways to pass the time. We scoured Instagram for the best reactions to flight delays and we weren't disappointed! Take a look for yourselves;
10. Playing Pilot ✈
Loti doesn't seem too bothered by the easyJet delay at Gatwick; she got a first hand view from the cockpit. Lucky lady!
9. Girls Trip! 👯‍♀️
Their flight may have been delayed 3 times leading to a location change and they still had to jump in a 2 hour Uber, but these ladies seem in pretty good spirits about it!
8. No paps, please ✋
Oh kids, we feel ya! Your flight's been delayed, you're tired, you missed your tea date with your teddy and you won't be back in time to catch the latest episode of PJ Masks that you missed whilst away.
7. What a rush (of blood to the head) 🤸
We think there should be a dedicated yoga room at airports; it's not only a great way to pass the time, but it's really beneficial before a flight to loosen tight muscles and prepare your mind and body. Headstand practice to pass the time is optional, though…Must mean there's not a lot to do to pass the time at Belfast International!
6. Putting on a Show 🎻
What a wonderful way to pass the time! Doing something they love whilst making other, possibly frustrated and miserable, passengers happy with the gift of music. Bravo!
5. We wouldn't mind a delay if we got to watch this every time 💪
There's just something magical about watching acro yoga. The trust, the elegance, the strength. Awe-inspiring!
4. Just eat all the food! 🍜
Kid, you've got the right idea. I eat when Im stressed, too…
3. I mean, you did fall asleep… 🤷
Rule no.1 when you go away with the lads. Don't fall asleep as things like this WILL happen to you. Rookie mistake made here at Luton, mate!
2. "Judgey Cat, Judgey Cat, why are you staring at me?" 😼
It's a lovely photo, but the cat is creepy and judgey nonetheless. Especially if you were snacking on one of the pastries above…
1. Who doesn't love a board game!? 🎲
Yes, people may be annoyed at the sound of others having fun, but so what? Rather than sit and wallow in anger and frustration, these guys are using their new spare time to enjoy themselves and create a pleasant atmosphere in Heathrow T5. And I'd totally want to join in with them, too!