Airport Parking and Coronavirus: Latest Updates
09 Apr, 2020
Alice Fowler
No Comments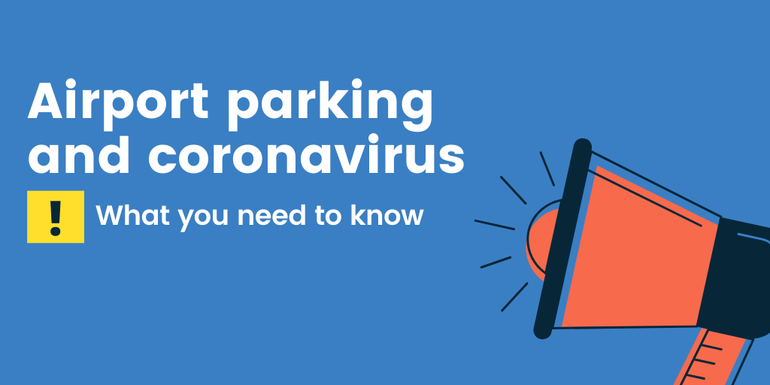 Coronavirus is impacting industries worldwide and the travel industry is really heavily hit. We've had a lot of questions about current and future airport parking bookings so we thought we'd summarise the latest situation here. If your question isn't answered here or in our FAQs, please do contact us!
Can I cancel my airport parking booking?
Yes! Our standard cancellation procedure applies, so if your car park was booked and paid through us, you can contact us to cancel it or visit the manage booking page. A cancellation fee may apply and if so, it should be displayed on your manage booking page. You can cancel up to the day before you are due to travel. During this time we are experiencing a high volume of cancellation requests so please do bear with us, we are working with the car park providers to obtain refunds as fast as we can.
This only applies if you booked a flexible car park. Unfortunately we are bound by the terms of the car park so only in very limited circumstances when agreed with the car park can we refund non-flexible/saver bookings. If your booking was through one of our partners, you can contact them to cancel.
Can I amend my airport parking booking to a later date?
If it was a flexible booking, absolutely, we can adjust the booking to a later date and you'll just pay the difference in price (or we'll refund you the difference if it's a cheaper price). If it was a non-flexible booking, please contact us just in case there is something we can do if it's well before your travel date.
Can I get a voucher for the value of my booking to use at a later date?
We don't offer vouchers as standard practice but if you contact us there may be something we can offer you.
I'm still travelling and my flight isn't cancelled, can I still use my booking?
Yes, as long as the car park hasn't contacted you to say there will be any changes to their operations, your booking will go ahead as normal.
I've got a flight booked that's still going ahead and I want to book airport parking, can I still book?
Of course! It's worth noting that parking options available at the moment are quite restricted with some not operating or offering a restricted service. It's worth double checking these details before booking. Some car parks aren't taking bookings at all throughout April and May.
Are airport car parks closed?
We've summarised some of the closures that we know about below:
| Airport | Car Park Status |
| --- | --- |
| Heathrow Airport | Official Short Stay car parks closed to advance bookings, drive up only. Long Stay open as usual but Terminal 5 bookings are upgraded to POD at no cost. Meet and Greet, Valet and Business parking are all suspended. |
| Glasgow Airport | Long Stay car park closed as it is now being used for coronavirus testing. |
| Luton Airport | They have temporarily closed their Mid and Long Stay car parks to new customers. They recommend using their Terminal Car Park 1 or Terminal Car Park 2. |
| Southampton Airport | Long Stay Car Park is closed. |
| Belfast International | Online bookings are currently unavailable. |
| London City Airport | Doesn't allow online booking until after the end of June. |
| Manchester Airport | JetParks car parks are not being sold. |
| Stansted Airport | Meet and Greet is only available from October 2020. Mid Stay and JetParks are not on sale |
| Doncaster Sheffield Airport | Online booking currently unavailable. |
| Other Car Parks | Many off-airport car parks are temporarily closed whilst there are limited flights from UK airports. |
Airport Parking Shop and Coronavirus
Airport Parking Shop employees are all working from home. We are still available by phone, email or LiveChat (find this in the manage your booking area). We are committed to helping our customers to the best of our ability during this time. Don't forget that depending on the type of booking you've made and who it is fulfilled by, you can make certain amendments or cancel in the manage your booking
area.