Airport Parking and Coronavirus: Latest Updates
12 Aug, 2021
Alice Fowler
5 Comments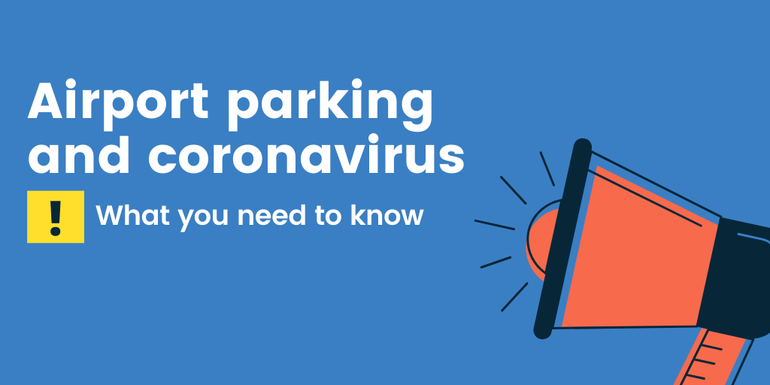 Coronavirus is impacting industries worldwide and the travel industry is really heavily hit. We've had a lot of questions about current and future airport parking bookings so we thought we'd summarise the latest situation here.
Please note that the information is changing constantly, so some of the information may have changed by now although we are trying our best to keep this updated. So we suggest you always check their official website for the most recent information.
If your question isn't answered here or in our FAQs, please do contact us!
Can I cancel my airport parking booking?
Yes! Our standard cancellation procedure applies, so if your car park was booked and paid through us, you can contact us to cancel it or visit the manage booking page. Please note a cancellation fee may apply and if so, it should be displayed on your manage booking page. You can cancel up to the day before you are due to travel. During this time we are experiencing a high volume of cancellation requests so please do bear with us, we are working with the car park providers to obtain refunds as fast as we can.
This only applies if you booked a flexible car park. Unfortunately we are bound by the terms of the car park so only in very limited circumstances when agreed with the car park can we refund non-flexible/saver bookings. If your booking was through one of our partners, you can contact them to cancel or discuss the booking.
Can I amend my airport parking booking to a later date?
If it was a flexible booking, absolutely, we can adjust the booking to a later date and you'll just pay the difference in price (or we'll refund you the difference if it's a cheaper price). If it was a non-flexible booking, please contact us just in case there is something we can do if it's well before your travel date.
Can I get a voucher for the value of my booking to use at a later date?
We don't offer vouchers as standard practice but if you contact us there may be something we can offer you.
I'm still travelling and my flight isn't cancelled, can I still use my booking?
Yes, as long as the car park hasn't contacted you to say there will be any changes to their operations, your booking will go ahead as normal.
I've got a flight booked that's still going ahead and I want to book airport parking, can I still book?
Of course! It's worth noting that parking options available at the moment are quite restricted with some not operating or offering a restricted service. It's worth double-checking these details before booking.
Is it safe to use airport parking?
Car parks are ensuring that their services are as safe as possible to use. We've summarised some of the airport parking coronavirus measures that car parks are taking to protect customers and staff. If you are concerned, we recommend contacting the car park directly to find out more information.
Car Park
Coronavirus Measures
ACE Parking Meet & Greet
They are operating a No Contact Meet & Greet service. You can expect measures such as perspex screens, hand sanitiser and social distancing at the car park. Staff will be wearing masks and gloves and changing these regularly. There will be a seat protector that will cover the driver's seat and your key will be put in a clear bag to ensure that there is no contact. On your return, the driver will take the seat protector off and you'll be handed your key. You will also be given anti-bacterial wipes so you can wipe the steering wheel or any other area you wish to clean.
Airparks
Drivers will wear masks and gloves and the car parks request that you also wear a mask when you arrive. The buses are cleaned and sanitised throughout the day and deep cleaned in the evening. They will also be carrying fewer passengers.
Edinburgh Airport Low Cost
Their office has perspex screens and signage to encourage people to social distance. They will also have free masks and gloves if you want to use them.
The buses are cleaned during the day and will be given a deep clean at night. There will also be fewer people per bus, with perspex dividers separating seats.
The drivers will be wearing masks and gloves and they will ask you to wear a mask too.
Flying Scot
They are working on a self-park basis. When you arrive, simply find a place to park your car and then come into reception to check in. The number of people allowed in the reception area is limited and must keep to the 2m distance rule. The drivers will not be loading your luggage on the bus, this is to avoid coming into contact with your belongings. If you're travelling with someone you live with, you can sit together, otherwise, you should follow the 2m distance rule. However, the drivers are not responsible for enforcing social distancing rules. It is recommended that you wear face-covering when getting to the airport. The reception, toilet area and shuttles are cleaned regularly. The areas that are used most frequently such as door handles are disinfected.
I Love Meet & Greet
Drive up to their forecourt, where they will have a member of staff in PPE collect your car from you. You won't need to have contact with them as there's plenty of room and it's in the open air. On your return, the car will also be returned back to you in the forecourt, the driver will have wiped it clean and keys will be inside your car. Drivers will have their temperature checked as soon as they arrive at work, they will be sanitising their hands and wearing a face mask at all times. They will also be keeping 2m apart from each other in the office. The customer will be asked to leave their key on the roof above the driver's door. The driver will then clean the keys, door handles, steering wheel and any other area that the customer may have touched with the wipes. The car will then be taken from the forecourt to be parked up and the same procedure will be followed prior to your return.
London Luton Long Stay
Customers can still use the Drop-off/Pick up that is located at the Long Stay in Terminal Car Park 1. But if you want to use it, you have to speak to a member of the APCOA team using the intercom service at the pay on foot machine.
Maple Manor Parking
All their staff will wear masks and gloves and they will use hand sanitiser on their gloves before interacting with each customer to minimise risk.
The customers meeting areas will have perspex screens to ensure that there's no contact made between the customers and Maple Parking staff
The meeting areas will all have hand sanitiser available for customers to use
The driver's seat will be covered with a single-use plastic sheet to ensure there's no contamination

The Meeting process:
You will be able to check-in at a safe distance where you'll have no contact with the staff, the staff will also have adequate PPE coverings
The keys will be dropped in a clear bag where they will remain till you get back (the staff will use the key through the bag)

Parking Process:
Each driver that comes in contact or moves your vehicle will have PPE covering and they will use hand sanitiser before and after driving your vehicle

Greet Process:
Before driving the car, the driver will be wearing PPE and as mentioned above, they will be using hand sanitiser.
When they arrive to give the car back, the driver will remove the single-use protective wear and will sanitise their hands again
They will then tip the keys in your hand from the plastic bag
Customers will then be provided with an antibacterial wipe so that they can wipe down the car further should they wish to.

Meteor Meet and Greet
All their staff members will have temperature checks before they start their work and social distancing is adhered at all times. When you arrive, you'll meet with your driver in the forecourt outside the terminal, they will be wearing a face mask and will be keeping a 2m distance. You'll simply leave the keys in the car so that there is no contact in you handing the keys over to them. The driver will disinfect the main touchpoints like the keys, door handles and steering wheel before taking the car to the secure site. Once you return, the same procedure will be followed, the keys, steering wheel and the door handle will all be wiped down, ready for you to drive home.
Purple Parking
Perspex screens and social distancing signs have been installed on the premises. Staff will be wearing gloves and masks which they will be changing regularly. Hand sanitiser will be available if you wish to use it. Seat protects will be used on seats when required and keys will be placed in clear bags.
Once you get back, the driver will take the seat protector off and you'll be handed your key. You will also be given anti-bacterial wipes so you can wipe the steering wheel or any other area you wish to clean.
Are airport car parks closed?
Some of the airports have made the decision to suspend some of their parking options, whilst others are still all operating. Below, we take a look at which airports are doing what, where the information is available to us:
| Airport | Car Park Status |
| --- | --- |
| Belfast Intl. Airport | All car parks are open as per their website. |
| Belfast City Airport | All official car parks are available to book. |
| Birmingham Airport | They state all of their 6 car parks are open, including Valet and Meet & Greet, with strict procedures in place. |
| Cardiff Airport | All three parking options, Long, Short and Meet and Greet, are available again. |
| Doncaster Sheffield Airport | All official car parks are open as per their site. |
| Dublin Airport | State that all car parks remain open, as contactless payments and APNR are available. |
| East Midlands Airport | All carparks except the Meet & Greet are back open. |
| Gatwick Airport | Both North & South Terminal Long Stay Car Parks, as well as Valet parking, remain closed. They plan to reopen the North Terminal Valet parking Apart from Gatwick Valet parking in South Terminal, all car parks are open and can be booked. But please note that flights are only operating from Gatwick's North Terminal. |
| Heathrow Airport | It's worth noting that airlines are currently only operating from Terminals 2 and 5. Official Short Stay car parks are taking limited online bookings but are open as usual to drive-up customers. Long Stay open as usual for T2, T3 and T5 and we assume Meet & Greet is back as itno longer says it's suspended on their site. Valet, POD and Business parking are all suspended. |
| Leeds Bradford Airport | Their car parks are all still operating according to their website. |
| Liverpool Airport | All official airport car parks remains open |
| Luton Airport | They have temporarily closed their Terminal Car Park 2 to new customers. They recommend using their Terminal Car Park 1, Long Stay car park or Mid Stay Car Park. |
| Manchester Airport | Due to the pandemic, not all car parks are open. At terminal 1, Multi-Storey, Short Stay, Mid Stay, Drop and Go, & Meet and Greet. At terminal 2, Multi-Storey & Drop and Go. Finally at Terminal 3, Multi-Storey and Mid Stay. Please note that JetParks car park are not being sold. |
| Newcastle Airport | It would seem that all their car parks are now bookable. |
| Southampton Airport | Long Stay Car Park and Meet and Greet are both closed. |
| Stansted Airport | Short, Mid and Long Stay, as well as Met & Greet are open. JetParks (another Long Stay option) are not on sale. |
Airport Parking Shop and Coronavirus
Airport Parking Shop employees are all working from home. We are still available by phone, email or LiveChat (find this in the manage your booking area). We are committed to helping our customers to the best of our ability during this time. Don't forget that depending on the type of booking you've made and who it is fulfilled by, you can make certain amendments or cancel in the manage your booking
area.